Kinghorn Shipyard
Kinghorn's Abden Shipyard
by Curly Mills ©
In Victorian times, Kinghorn's rocky shores became the unlikely home of a shipbuilding yard. This was established in 1864, by John Key who owned an engineering works at Heggies Wynd in Kirkcaldy where he built steam engines, many of which were for ships. The railways, which had been spreading across the country were transforming industry and especially ship building. Only railways could transport the iron ore, coal and limestone needed to make iron plates and girders in large quantities and then take the finished iron products to the shipyards. Wood had been ideal for vessels of up to 200ft in length but timber was getting expensive and there was a fire hazard with steam engines in wooden ships.
In the early Victorian era steam engines were `cutting edge technology' and engine builders were constantly developing better engines and boilers, John Key seems to have been successful in making engines with high power output and low fuel consumption especially for ships. Steam ships did not need the stability of sailing ships which heeled with the wind and so could be longer and narrower than sailing ships. Long, narrow steam ships could also travel faster and were more reliable than sail which made them ideal for transporting people. John Key therefore decided to set up a new business building iron framed ships with the raw materials being brought in by rail rather than by sea as all the harbours were already crowded with houses and sheds. He eventually spotted the possibilities of a site on the Abden Estate in a field cut off by the railway at Kinghorn. When completed, the new Abden Shipyard at Kinghorn even had its own branch line into the yard and special trains brought not only the iron and other materials but also additional workers from Kirkcaldy.
The yard was situated immediately to the North East of Kinghorn Parish Church, a site now occupied by the present caravan park. All the shipyard buildings have now been swept away but the remains of the three slipways can still be seen on the shoreline. The Easter Braes coastal path runs along the Northwest edge of the site behind the remains of the North wall of the large building which can be seen in the old photograph.
---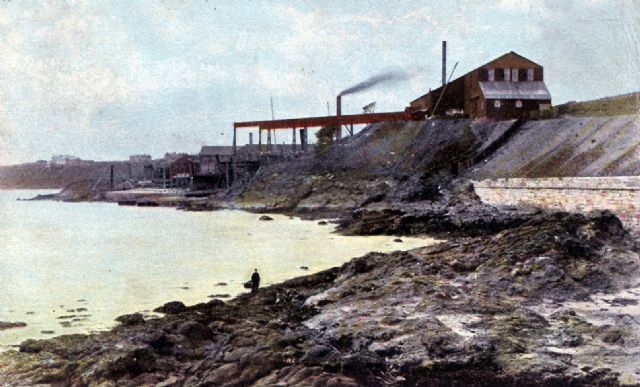 The Abden Shipyard 1905 - the gantry built from the Tay Bridge can be seen.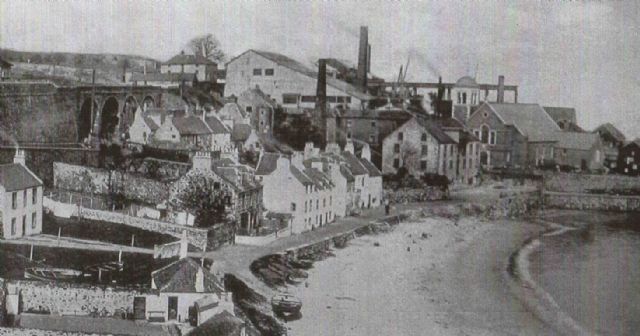 The three slips had to be aligned East/West aimed directly across the threatening black ridges of rocks (as can be seen by the shadows of the remains of the slipways on Google Earth)! This angle was necessary to accommodate the large ships which were built here, even though that meant that they had to be launched at high tide with steam up so that they could sail away. On John Key's death in 1876, the yard passed to his sons but and was later taken over by John Scott in 1886 and modernised. A large crane was constructed using girders salvaged from the Tay rail bridge which had collapsed in 1879 (and will be remembered for a very long time, http://www.mcgonagall-online.org.uk/gems/the-tay-bridge-disaster).
Despite building some impressive vessels, the yard closed in 1900 but was re-opened in 1901 (again by John Scott) before again closing in 1911. After one last revival in 1919, it closed for the last time in 1922 probably because a modern shipyard had been opened at Burntisland in 1918 where much bigger ships could be built and so after almost a century very little now remains to remind us of the many ships were built here during the 58 years that the yard existed.
Despite the Victorian population of Kinghorn being far smaller than at present, many ocean going ships, both sail and steam powered were built here. For example, the 340ft long Mentmore launched in 1882, was designed to carry up to 1,200 3rd class passengers (equal to almost the whole population of Kinghorn which had 1439 inhabitants in 1881)! By comparison, it is worth noting that Isambard Kingdom Brunel's `Great Britain' which at 322ft had been the longest ship in the world when launched 40 years earlier at Bristol (where it is still preserved) carried only 360 passengers (later increased to 730) and Scott's `Discovery' (172ft long) at Dundee is only about half the size of the Mentmore.
It is therefore interesting to collect together and to tell a few tales about some of these Kinghorn built ships and their subsequent adventures both locally and all around the world.
---
Kinghorn's Abden Shipyard full document may be downloaded here
Copyright Statement. @ Kinghorn Historical Society 2012. Material on this website may not be copied or reproduced without the permission of Kinghorn Historical Society.. We believe all information on this website is accurate. We take no responsibility for inaccuracies in the content or last minute changes to the programme.